The Mirliton (Kazoo) appeared in great numbers and in a variety of shapes, sizes and materials throughout Africa as far back as tribal history can trace.
The most prevalent style, found in many cultures, is a hollow tube with a hole in the middle covered with animal membrane and open at both ends .
Bone, reed, gourds, corn stalks, animal horns and even human skulls were used. The instrument was used to impersonate animals, the voices of the dead, to make terrifying sounds and to bring messages from the spirit world.

There is also evidence to indicate that an instrument of this general description has been used since prehistoric times by all cultures around the world to imitate animal sounds and as a means of communication. The Mirliton (KAZOO) could easily be regarded as one of mankind's first musical instruments.




Animal shin-bone Mirliton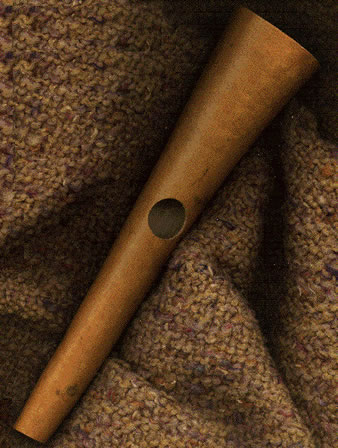 Pre-columbian Gourd Mirliton

More Krazy Kazoo's!