The 72 open strings of the Bass Canon sound one octave below the Harmonic/Melodic Canon. Cris Forster used the String Winder (pictured below) to make the strings for this instrument because thin and highly flexible wound strings in this frequency range are not available from commercial manufacturers.

Built: 1989, San Francisco, California

Dimensions:
Total number of strings: 72
String length: 1200.0 mm.
Canon length: 50 ½ in.
Canon height: 5 ½ in.
Canon width: 42.0 in.
Height on upper side: 52.0 in.
Height on lower side: 31 ¾ in.

Materials:
Sitka spruce, Honduras rosewood, birch, teak, delrin, kydex, aluminum, brass, and steel.

Range:
Open strings: Second G below middle C.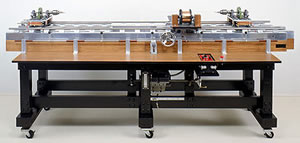 The String Winder (above) was designed and built to make wound strings for the Bass Canon. However, the versatility and accuracy of this machine also enables Cris to make custom wound strings of various lengths and diameters for other musical instruments such as harps, guitars, and pianos.