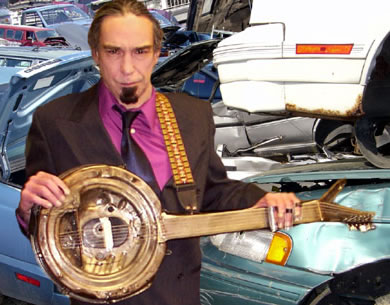 CMP founder Bill Milbrodt with the Air Guitar, made from an air filter
and part of the windscreen frame. (photo by Wilbo Wright)
The StrutBone (above left) and Tank Bass (photos by Klein & Ulmes)

Described by music critics as an "avant-garde genius" and likened to Frank Zappa, the Car Music Project's pit crew consists of top notch musicians. Milbrodt is an Emmy award winning composer, Trigg has played with John Cage, Phillip Glass and the New York Philharmonic. Renown jazz bassist Wright is a member of the instrumental avant garde band UI, and has played with Yo La Tengo, Chris Harford and Marc Ribot. Brass player James Spotto is known from his own quintet, "Proper James." Milbrodt's musicians read his music from written scores while fueling it with healthy doses of improvisation, which make every show different. "The written music is like a road map," Milbrodt says, "and includes parts where the players can choose their own routes."

Car Music Project
The Car Music Project was conceived in late 1991 by composer Bill Milbrodt (mil-brōt), when his personal car, a battered and road-weary 1982 Honda Accord, was nearing the end of its useful life.

Milbrodt explains, "It had endured close to 200,000 miles of road life with little mechanical maintenance and even less cosmetic attention. It would cost more to repair than it was worth and the poor thing had virtually no value as a trade-in. The paint was faded, pesky springs poked through the upholstery, knobs and handles were missing, and the electrical system was iffy. It dripped oil, blew smoke, and made more noise than a cement mixer. It was time to turn the car into music."


Percussionist William Trigg, playing the Car Music Project's "Percarsion" set.

Note that the drums are made from the wheels of the car.
After the car was entirely dismantled, metal sculpturer Ray Faunce III began creating the bands instruments from the old cars parts, a process that took 18 months. Other musicians in the Car Music Project band include:
Brass player James Spotto on Exhaustaphone and Strutbone, constructed from the struts, shifter linkage and exhaust system, playing like a trombone.

Percussionist William Trigg plays "Percarsion", which consists of a fifteen foot-in-diameter circle of racks from which springs, gears, windows, pistons, and crankshafts hang, totaling over 55 percussion instruments. In addition, Trigg plays drums made from the wheels and trunk, and cymbals made from the floorboards.

Wilbo Wright plays the Tank Bass, which is made from the gas tank.

Milbrodt plays Air Guitar, a stringed instrument made from an air cleaner and brake calipers that looks like a banjo but is fretless and played with metal finger slides.

Take the Car Music Project for a quick test drive and listen to a short sample by cranking up the music player below:

Get the Flash Player to see this player.

For much more information, including performance dates, pics and music, visit the Car Music Project website.