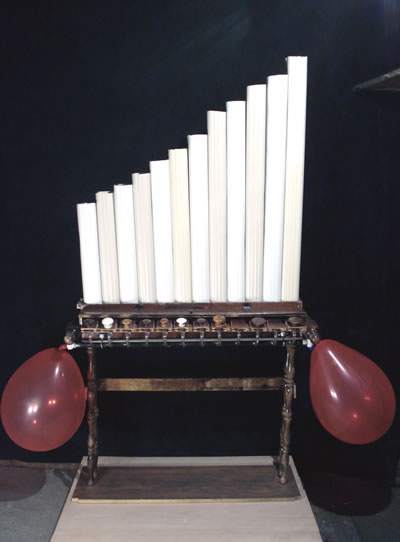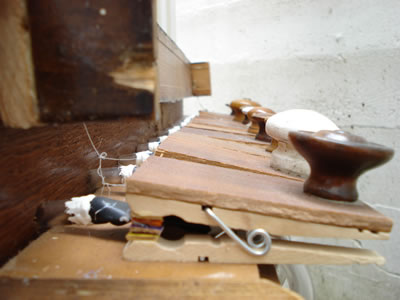 The Bubble Organ's simple, yet effective, keyboard design, using clothes pins, popsicle sticks, and old wooden drawer knobs.
For more information about the Bubble Organ, check out the GearWire video of Aaron describing the Bubble Organ in detail, as well as playing a few notes:
Bubble Organ
The bubble organ is a musical instrument built by Aaron Wendel, and is made out of pieces of old furniture, wood and rain gutters collected from the alleys and dumpsters around his apartment.

It began as an attempt to explore the sounds of bubbling water inside of tubes and how to control the sound to created some form of musical composition.

The bubble organ begins with two balloons which attach to a pipe that hangs underneath the keyboard. Connected to this pipe are 12 small plastic tubes that run through the keys and into the drawer box. The keys are created out of clothespins and popsicle sticks, and pinch down on a piece of heat shrink tubing controlling the air flow of each tube. The tubes run from the keys into the wooden box from the bottom so that they stick up a couple inches vertically. The box is then filled with three to four inches of water so that the surface of the water is above the ends of the tubes. On top of the plastic tubes inside the box, rest a PVC pipes (covered by rain gutters) which are cut to resonate a specific pitch. When a key is depressed the air flow is allowed to flow from the balloon through the tube, bubbling inside the corresponding pvc pipe, and the sound is heard.

Another view of the Bubble Organ, showing the plastic tubes that run through the keys in to the drawer box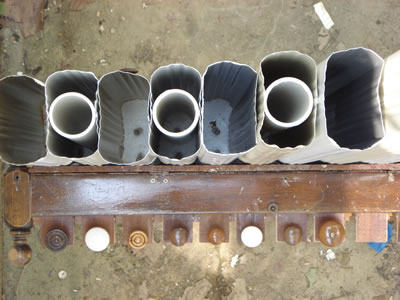 Overhead view of the Bubble Organ, showing the PVC pipes, cut in different lengths, to resonate at specific pitches.