Known in Europe as Das erste Wiener Gemüseorchester or The First Vienna Vegetable Orchestra, the orchestra is an Austrian one-of-a-kind musical group performing on instruments made up entirely of fresh vegetables.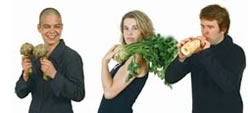 The Vegetable Orchestra was founded in 1998, and consists of 11 musicians, a sound engineer, a video artist and, of course, a cook. Based in Vienna, the Vegetable Orchestra plays concerts in Europe and Asia -- even playing in large philharmonic orchestra halls. Instead of guitars and drums, the orchestra plays Cuke-o-phones, radish-marimbas, carrot flutes, pumpkin basses, leek violins, and other freshly made instruments.

The First Vienna Vegetable Orchestra blows carved-out carrots, taps turnips, claps with eggplant cymbals, twangs on rhubarb fibers, and rustles parsley and greens, all in the creation of an experimental sound that eventually winds up -- literally -- in the audience's stomach.
There are no musical boundaries for the Vegetable Orchestra. The most diverse music styles fuse here - contemporary music, beat-oriented House tracks, experimental Electronic, Free Jazz, Noise, Dub, Clicks'n'Cuts - the musical scope of the ensemble expands consistently, and recently developed vegetable instruments and their inherent sounds often determine the direction.

The members of the ensemble are all active in various artistic areas and have worked together on conceptualizing and carrying out their project, a crucial factor in further developing the vegetable music. The intention is to create a sonorous experience which can be perceived with all senses.

The instruments are made from scratch just one hour prior to each performance using the freshest vegetables available, then all ninety pounds of vegetables are cooked into a soup following the performance.
For more information about The First Vienna Vegetable Orchestra, visit their website at www.gemueseorchester.org