Beat bazaar
Escape the mainstream of music at a site devoted to unconventional sounds
by Jingjo Dam na Buri Ram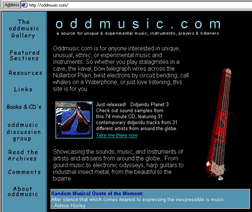 Tired of downloading the same old musical diet of shared songs from your favourite peer to peer network? They do have the savour of the forbidden, but sometimes you may crave a change, and then the place to go is to oddmusic.com (http://www.oddmusic.com), which bills itself as ``a source for unique and experimental music, instruments, players and listeners.''

You know they're not kidding about the oddness when you see that their first offering is some sound samples from a 74-minute CD of didgeridoo music played by a roster of artists that spans the globe, and then read an introductory note that assures you that ``whether you play stalagmites in a cave, the kaval, bow telegraph wires across the Nullarbor Plain, twist electrons by circuit bending, call whales on a Waterphone, or just love listening, this site is for you.''

Oddmusic's California-based creator John Pascuzzi inaugurated the site in 1999 as an offshoot of an online discussion group on the subject of unconventional music and instruments. Since then it has grown to become a forum not only for people who are interested in out-of-the-way sounds, but also for instrument builders and performers who want to share their innovations.

The highlight of the website is the ``Oddmusic Gallery'', a table of well over a hundred rare or unique musical instruments and sound sources, with most of the listed items including photos and links to sound samples. Some of these are folk instruments like the kaval, a rim-blown flute from the Balkans, others are new inventions inspired by ethnic ones. The koralimba is a kora-inspired double sided electric kalimba. Sill others are experimental creations based entirely on the builder's sonic imagination.

There is also a ``Features Section'' that collects links to articles and mini-sites devoted to subjects like ``circuit-bent and living instruments.'' If the sounds and written material on the site arouse your interest, there is a link to the discussion group.